The proactive herd management solution
Herd Navigator® is the solution for the professional farmer who wishes to utilise proactive herd management.

Herd Navigator is a revolutionary innovation which offers advanced support for the daily management of dairy herds. Herd Navigator® represents a quantum leap in the development of proactive herd management with equipment for making in-line measurements in the milking parlour.

Based on measurements of four central parameters in milk and with sophisticated processing of the results in biometric models along with other information about the herd and the individual cow, Herd Navigator will assist the farmer in taking preventive measures within reproduction, udder health (mastitis), feeding and feeding-related conditions.

With Herd Navigator the sampling and analysis of milk takes place fully automatically during milking. The solution is linked to data from the cattle database and calculations are made which produce results about the animals' condition. The figures calculated can easily be read on a PC and cows which require attention, insemination or treatment can be checked or segregated. ´

With Herd Navigator milk samples become an important tool in daily production management in which the following are monitored:

• Reproduction based on progesterone
• Udder health based on LDH
• Feeding and feeding-related conditions based on BHB


Many benefits for the cattle management of the future

Herd Navigator makes it possible to optimise individual cows in terms of reproduction, health and feeding, giving the farmer a financial benefit per cow per year. The herd manager gains a better overview of the condition of the herd and can take action early against diseases and at the right time for reproduction. Earlier intervention means savings in time and costs and also ensures optimal reproduction control. Herd Navigator also means better animal welfare and better documentation of production.

More about the measurement parameters
Progesterone – this hormone shows the reproductive status of each cow, including heat, pregnancy, miscarriage and reproductive diseases.

LDH – an enzyme which becomes significantly more active in cases of mastitis. LDH is used as a mastitis indicator with the focus on detecting sub-clinical cases at an early stage.

BHB – a ketone which is secreted when the liver is not functioning optimally. BHB is a good indicator of how the cow deals with the beginning of lactation. BHB indicates ketosis and other feeding-related conditions.


How Herd Navigator works: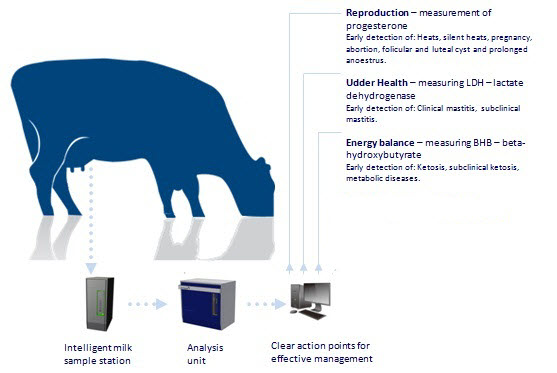 For more information on the product:
Download the short Herd Navigator Folder: "Herd Navigator Folder"

Download the brochure: "Proactive herd management."

Download the brochure: "Herd Navigator and reproduction management."

Download the brochure: "Herd Navigator and ketosis management."

Download the brochure: "Herd Navigator and mastitis management."



Herd Navigator - A multi award winner

Agrarfuchs Innovation in Agriculture Award - at Agraria Austria 2010

Inel d'Or for milking equipment - at La France Agriole 2010

Golden Hoof - at Brussel's Agribex 2009

Gold Trophy - at Paris SIA 2009

New Product Europe Award - at Agromek Denmark 2008